Whether you have 1 Gym or 150 Clubs Axis has you covered, Coast to Coast, for all of your AV entertainment needs.
Nationwide Health Club Case Study – You Fit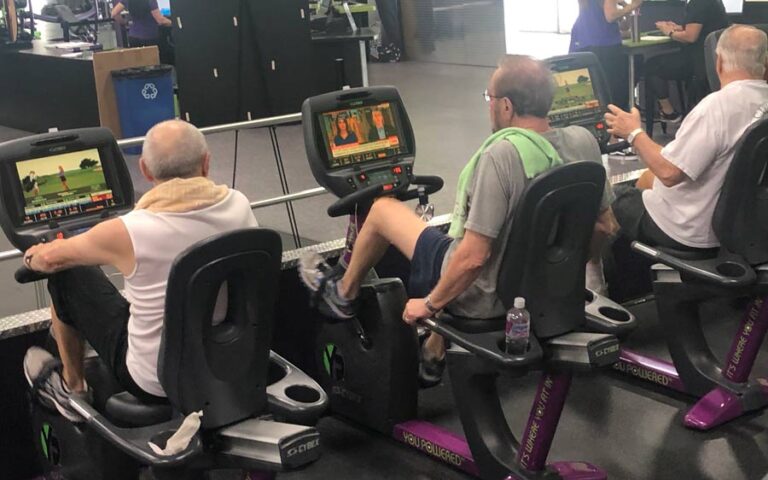 After many years of partnering with clubs, You Fit Health Clubs reached out to us during a growth period. They needed one company and one point of contact for all of their AV and Low Voltage needs. One that could support their growth. A company that could support the new build schedule as well a keep up with any service issues.
Lifting your Gym/Health Club above the competition with one Point of Contact for all your low voltage needs.
Our uniformed implementation and collaborative process allowed us to work with their Florida Gyms to build over 140 locations. We have provided installation and service of:
Main Gym, Locker Rooms, and Office/Staff Areas:
Multi-Zone High-Quality Commercial Sound
Security Cameras
Video Services to Exercise Machines and Ceiling/Wall Mounted TV's
Television and Custom Mounts
Sound, Video and Data Cabling for all Components
Networking Equipment and Data/Phones for Office Areas
Group Exercise and Cycle Rooms
Robust Surround Sound
Lighting
Wireless Microphones for Trainers
Bluetooth Audio
Body Monitoring/Tracking
Equipment/Software
Cardio Theater
Movie Cinema EXPERIENCE
120" Screens
Projection
5.1 Surround Sound
Outside TV for Marketing Cinema Area
Digital Signage
Marketing of member services
Massage Room Entertainment
Video/TV's and Sound Synced to Massage Internal Speakers
Axis Satellite has developed a turnkey business solution for the Gym/Health Club industry.
Why Did They Come to Axis for Assistance?
Issue: Billing and Operational Management
You Fit had multiple video service providers around the country with different companies working on different projects, and different bills with different rates at each of their locations. Managing annual budgets for expected entertainment cost on audio and video platform suppliers, created a loss of productivity and cost overruns. Working with multiple vendors and suppliers when completing new builds or service needs, created delays in installation, service needs were not being met, and undue stress was created for the operational team.
Solution: Axis created a National Account agreement for video services, providing You Fit with deep discounts on their OPEX cost, saving them thousands of dollars a year and one POC to help facilitate growth. A uniformed bill is sent to the corporate location with the same programming packages for all the locations in their portfolio. With one POC for all service and installation needs, You Fit found savings on operations as they did not have to shop or seek out different vendors across the country for service and installation of A/V items.
Issue: Multiple projects across the county at the same time.
Solution: By creating a collaborative process with general contractors and vendors across the country, we solved the issue of looking for someone in each new location that was being built. There was no need to put items out for bid, review bids, and go through the contractual process. As a turnkey solution for You Fit, there was confidence in the product we would be delivering was what they needed and had come to expect from Axis.
Issue: Multiple sound needs in one building.
Solution: Creating separate systems and zones for sound based on the areas to be supported, we eliminated the normal complaints you hear from your members.
Axis has designed, permitted, wired, installed and continues to service over 200 gyms across the country.
When you call on the Axis team, we do it right for you….